Rethinking the open office
Rethinking the open office
Designers focus on creating flexible work experiences that fit a company's culture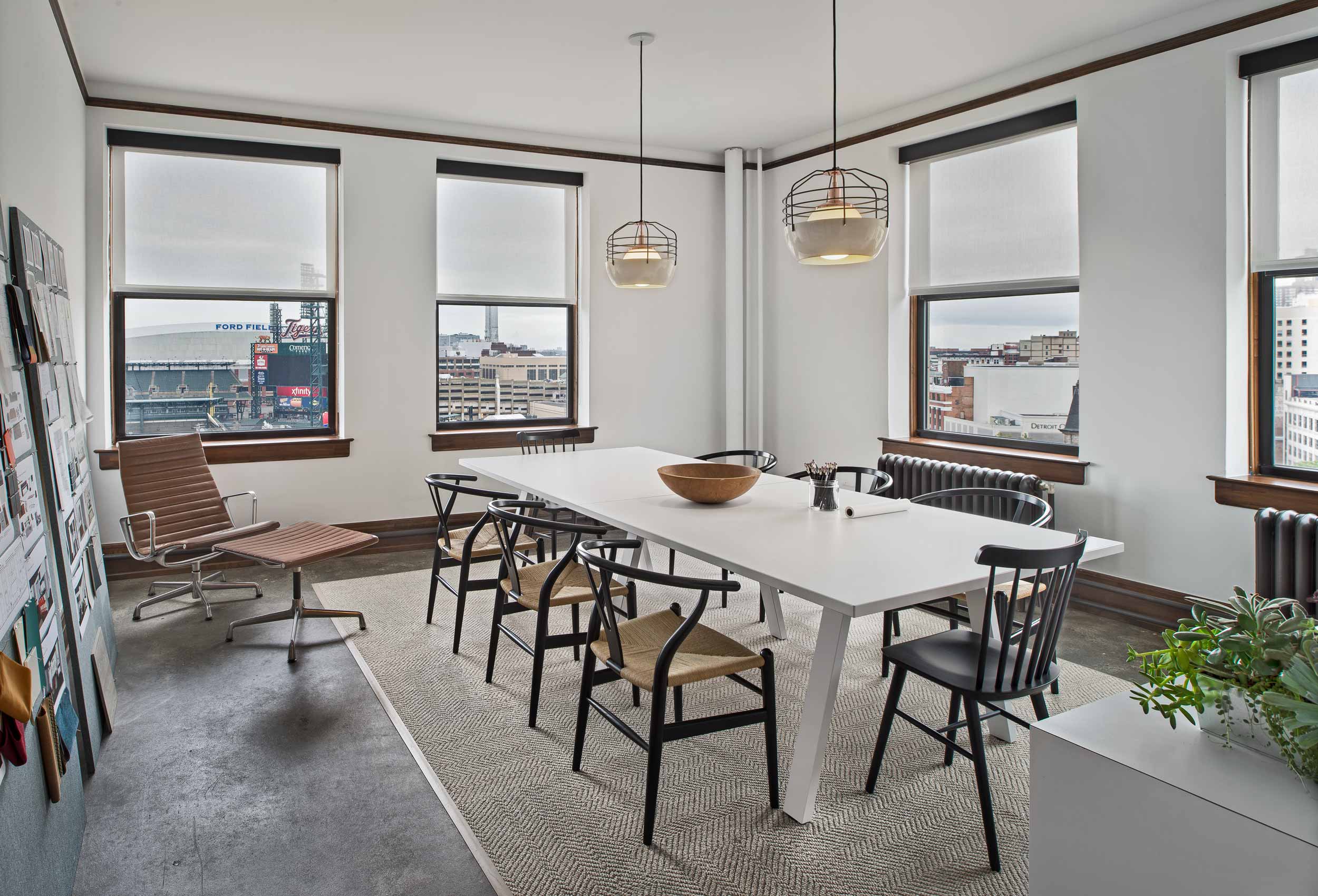 By Ashley Catherine Woods
Special to Crain's Detroit Business
These overhead lights are too bright.
Too much distraction.
I can't hear myself think.
Sound familiar? Complaints like these have dogged the open office concept since it first swept through America's business landscape.
Tech companies like Google seized upon the open workplace in the mid-2000s to inspire rapid collaboration and idea-sharing. Research from Gensler found that two-thirds of employees believe they are more efficient when working closely with each other.
More on modern workspace design
Read the other stories from this special report:
Detroit design grows up: Designers used to reflect Detroit literally in their work, decking the halls with hubcaps and skyline photography. But tastes are evolving in a city that no longer feels the need to jump up and down for attention.
Co-working community: With so many options in Metro Detroit, co-working spaces now tout community amenities, like trainings, child care and yoga classes.
Offices across America raced to follow Silicon Valley's lead — partially fueled by the design trend's tendency, in many cases, to ease the budget's bottom line.
"The economic downturn forced much of the open workspace solution," said Patrick Thompson, principal of Detroit's Patrick Thompson Design. "Companies had to scale down and downsize and move more people into bigger areas. And it came as a shock to the system for people who once had cubicles or an office."
Experts say the open office backlash hasn't driven a desire to return to traditional corporate floor plans of the past, with rows of offices lining the perimeter.
Instead, designers now focus on creating flexible work experiences that offer workers a range of spaces and environments to complete their tasks.
Opening up the space
When Thompson designed Push 22's new office in Bingham Farms, the company decided to abandon exterior offices and cubicles for a more relaxed open workspace.
They built offices with glass walls in the center of the floor for account directors and other members of the leadership team. Moving offices to the interior allowed for more natural light and room to breathe for employees who share space.
He also integrated features like a think tank room with whiteboard walls and lounge furniture that could be easily moved to accommodate small groups.
"They are a very collaborative creative firm," Thompson said. "And they realized they had to step it up on the design side to retain talent."
How to start small to create a more open office
Not ready for a full redesign? Still skeptical? Test out the theory by creating a multi-use space for employees to gather and collaborate.
"In any company, there are multiple ways people need to interact," said Jennifer Janus, COO of dPOP. "They need to interact in hallways and meeting rooms and by their desks. Having the ability to design something that works for multiple situations is key."
When dPOP scopes a new project, someone on Janus' team might be assigned to count the number of employees who walk through a corridor over the course of an hour. If your office is smaller, identify a few high-traffic areas that might make for natural collaboration spaces. Here are some tried-and-tested ways to integrate more flexible workspaces into your current office setup.
Add a table and high chairs to a wide hallway. It's a less-distracting spot for your employees to catch up in between meetings.
Outside the conference room: Place a table or a few small chairs so employees can prep for upcoming meetings while they wait outside. Bonus: Offer coffee or bottled water.
Snag an idea from restaurant design and source a banquette or booth to host friendly lunches in the kitchen.
Transform a utility closet or small office into a nap pod or nursing room. Think balanced and peaceful — reclining chair, aromatherapy and comfy pillows.
Use economical wall partitions or dividers to chop up a meeting room or divide a high-traffic area from workspaces so your employees can focus.
When International Bancard hired the Detroit architectural firm Rossetti to design their new downtown Detroit offices, creative director Kelly Deines and his team made key use of what he calls non-space — corridors, space in front of conference rooms and dead space — to create areas for employees to gather, focus and recharge. Call them "micro-curations" of furniture.
The result is a design that is equal parts urban and whimsical, featuring bright custom pipe work that evokes drive-thru banking tubes, symbolizing the millions of transactions the company processes.
"There's an approachability to the design," Deines said. "The Forbes 500 look is over. Those days of a staunchy, buttoned-up office is done. It kind of goes along with business casual attire. We're realizing that a necktie does not equal productivity."
International Bancard also embraced Rossetti's push to create kitchen areas with banquettes and counter islands to inspire more socialization among employees — a feature that's helped improve employee satisfaction.
"Where there's food, there's people," Deines said. "The cool thing about International Bancard is that they do have some youth. There is something exciting and successful about how that transition occurred and how people feel comfortable there."
When Thompson designed his team's new office in Grand Circus Park's Palms Building, he wanted a space that could function as a gathering space for employees and play double-duty as event space when he hosts a party.
The large island on wheels can be moved throughout the office — and the flexibility is key for when he hosts a few dozen clients or friends.
He says great workplace design takes cues from restaurants, hotels and other gathering spaces.
"Hospitality is universal. We focus less on trends for retail or restaurants or the workplace, and more on creating an experience that's comfortable," Thompson said.
Cues from the culture
Research from the Holland, Mich., office furniture manufacturer Haworth says intentional planning of spaces for collaborative and focus work, plus areas where workers can mentally recharge, help employees be more productive and happy.
That's why it's essential for companies to consider the needs of their employees when considering a more open floor plan, said Melissa Price, CEO of Detroit's dPOP.
"Sometimes it's assumed that the open office space is best from a real estate perspective — but that can't be the driving force. It has to be for the attraction of talent. If you just focus on saving space and cramming them in, that's not ideal."
She recommends companies ask themselves: "From a goals standpoint, what are we trying to achieve — and who are we?"
Thompson said companies who are recruiting millennial employees should focus on developing amenities as an additional workplace feature.
"Students and younger people are accustomed to amenities because of the college campus — they are used to total comfort, access and options, in spaces where they often live, work and play. When they set out to the workplace, they look for similar experiences."
That doesn't just mean happy hours and game rooms. Thompson said many trend-setting companies consider ergonomic workspace solutions to keep workers healthier and happier, like chairs that beep to suggest the worker should stand and take a healthy walk around the office.
"Sitting is the new smoking," Rossetti's Deines said. He said half of Rossetti's office desks will be replaced by standing workstations this year.
Even though flexible design can inform how and in what ways your employees enjoy the office, it's important that the design matches the culture of your workforce.
"Certain office cultures say you aren't productive if you're sitting on a beanbag chair," Deines said. He said it's important for managers to figure out what works with your team.
Thompson and Deines both begin a new design relationship with research — asking questions and visiting the space before they offer suggestions. Complaints can offer cues. "It feels gloomy" might indicate a lack of natural light. "We can't keep young talent" could be a symptom of a stifling environment.
"One interesting change in the workplace is that the people are informing the work place more than they ever have," Thompson said, "which is a huge change from how it's been done in the past."
But change can be scary for an office that is steeped in the familiar. Deines recommends that managers and leadership build buy-in for new design elements by seeking feedback and being transparent about the planning process.
"In the past, people used to say 'don't tell anyone, be careful.' It was a secretive process. Social media has changed that dynamic."
RELATED ARTICLES
VIEW ALL ARTICLES